If you are having problems logging in to the web site, there are a couple of things to note:
User Names and Passwords
| | |
| --- | --- |
| | The top box of the login area is your user name and the bottom one is your password. |
All user names and passwords are case insensitive. So don't keep trying with different combinations of capital letters in the hope it will work. Try using upper case for all characters as it is easier to see that you have typed them in correctly, and if it does not work, then check with your league administrator to ensure you have the correct information.
Cookies
Cookies must be enabled with your internet browser to allow you to login. If you get a message saying 'Your session has expired. Please login again.' when you try to login, it is probably because cookies have been blocked.
(If you simply leave your browser logged into the web site for a while and then try and go to a new page, you will get this message anyway, as login sessions will time out after a while).
To check if cookies are being blocked in Internet Explorer do the following:
Go to Internet Options, click on the Privacy tab and note what level your setting is. Now move the slider down to Accept All Cookies and click OK.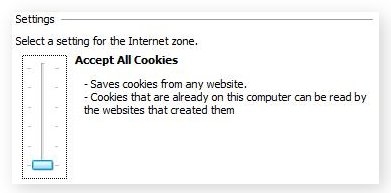 If you can now login, then problem solved.

However, this setting is just to prove a point and you do not want to leave it there. The default setting is Medium, so reset it to that and then click on the Sites button.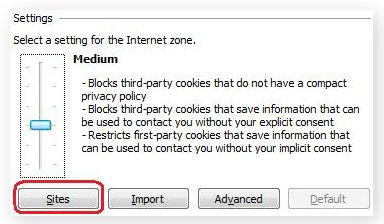 Now add countyleagues.co.uk and leaguemaster.co.uk (see below). This maintains your security but allows you to login.